2017 JAGUAR F-PACE 20D AWD
June 17 2018, Jaguar Vancouver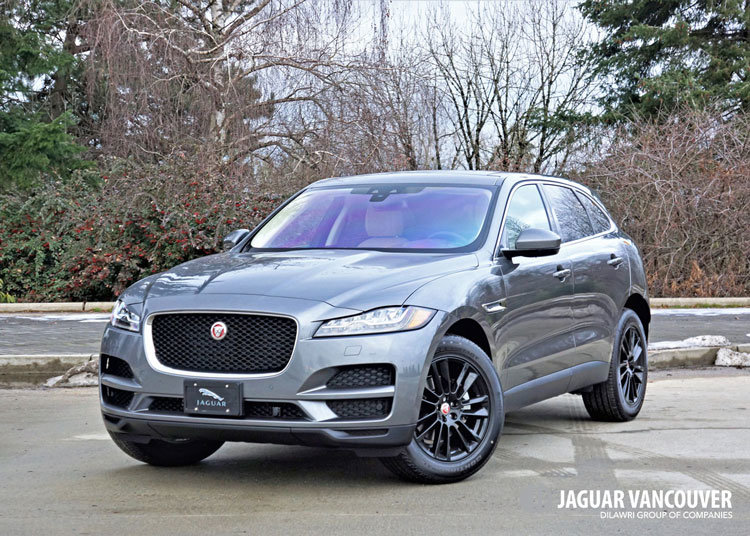 2017 Jaguar F-Pace 20d AWD Prestige Road Test Review
The Brits are building a better SUV
In life, it's best to expect the unexpected. All too often that phrase follows bad news, but once in a while a positive surprise puts a smile on the face.
That would be the new Ingenium 20d turbodiesel four-cylinder, a particularly efficient and energetic alternative-fuel powerplant that's been engineered completely in-house at Jaguar Engine Manufacturing Centre in the West Midlands, UK.
Fuel economy that's second to none
The new 2.0-litre, four-cylinder turbodiesel is the brand's most fuel-efficient engine ever; capable of achieving up to 6.9 L/100km combined city/highway in both the XE and XF. These numbers are superb for luxuriously equipped premium sedans, while the near mid-size F-Pace' rating of 8.9 city, 7.2 highway and 8.1 combined makes it the most efficient non-hybrid in the class. What's more, its highway rating is number one overall.
On that note, I'm not sure why fuel-economy isn't more of an issue these days, especially in Vancouver where gas prices aren't much better now at $53 per barrel of crude than they were at $100. Sure we haven't seen pump prices of $1.40-plus per litre for a few years, but we're regularly paying more than $1.25. Let's remember that gas averaged $0.75 in 2000 when hybrids first arrived and diesels were selling especially well, and increased to $1.04 by the end of the last decade, when hybrids were gaining popularity and diesels made up more than 50-percent of some manufacturers' business, so based on that we should now be buying up hybrids, EVs and the new diesel at a fast rate. Even last month the Lower Mainland averaged $1.20 per litre.
Jaguar touts its new turbodiesel as "Environmentally friendly. Lowering harmful gas emissions including CO2 and nitrogen oxides," which is partially founded in the argument that diesels can travel more distance using considerably less fuel, which certainly makes sense. Jaguar didn't leave it there, however, the new 20d using too many innovative approaches to engineering and technological advancements to list, some to reach optimum operating temperature faster (which also quickens cabin heating on cold days), others for enhanced cooling, yet more to reduce friction, still more to decrease NVH levels, others to save weight, and all for providing a more powerful, smoother, cleaner diesel experience. The 20d meets EU6 and EPA Tier II and Tier III emissions specifications, partially due UREA injection, but mostly through creative engineering. That's all good, but I like the new 20d for how it drives.
Strong, quiet power makes for great everyday performance
If you've never experienced a modern turbodiesel powerplant you really must. Quiet, smooth, and powerful, the 20d delivers 318 lb-ft of V6-like torque from a small and economical displacement, so you can get off the line quickly while carrying a heavy payload of passengers and cargo, whether its just the cargo hold filled with up to 685 kilos of active lifestyle gear or a 2,400-kg trailer in tow as well. In comparison the lone hybrid in this class can't even tow as much weight in a trailer as the F-Pace 20d can haul on its back, while electrified all-wheel drive isn't known for off-road capability either.
The ability to go wherever the road or trail takes you is a diesel trait, not that this was the primary objective of the F-Pace. That's Land Rover territory after all, but Jaguar didn't only provide their first SUV with legs for pavement. It boasts 213 mm of ground clearance, which is the same as the Discovery Sport, while Jag's SUV also includes a version of that Land Rover's off-road tweaked hill-descent control, as well as a "crawl" setting that maintains a constant low speed by adding throttle and even braking without the need of feet on pedals, leaving you to solely concentrate on steering over and around obstacles.
The F-Pace' ability to handle high speeds has piqued more peoples' interest, mind you, and the 20d is no different. OK granted, it's nowhere near as quick off the line or to highway speeds as the 340 horsepower 3.5t that sprints from standstill to 100km/h in just 5.8 seconds and then on to a terminal velocity of 250 km/h, or for that matter the 380 horsepower 3.5t S hits the first mark in just 5.5 seconds and is similarly speed limited. Instead, the 20d takes a more leisurely 8.7 seconds to do likewise before topping out at 208 km/h, but it certainly feels quick enough around town and on the highway, plus it's nearly as agile through the corners as its more sporting siblings.
Options are aplenty but standard F-Pace equipment is even more impressive
My tester was upgraded with gloss black 19-inch alloys on 255/55 Continental Cross Contact LX Sport all-seasons in place of the 255/50R20 Goodyear Eagles underpinning my previous 3.5t R-Sport loaner, but take note that 19s are standard, these wheels simply done out in a jazzier finish. Jaguar offers 20- and 22-inch wheel sizes in both silver and black or combinations of both, plus numerous designs, so take your pick no matter the trim chosen.
On that note, the F-Pace 20d can be had in Premium, Prestige, or R-Sport trims, my tester riding the middle line in Prestige duds. That means it gets HID headlights, chrome side window surrounds, interior ambient lighting, a powered steering column, leather upholstery, four-way powered front lumbar support, heated front seats, front and rear parking sensors, and navigation over the base Premium, but the lesser model is where the majority of goodies are found.
Pulled up from Premium to Prestige trim are LED daytime running lamps, LED taillights, power-folding mirrors, rain-sensing wipers, proximity access with pushbutton ignition, metal doorsill plates, powered front seats, auto-dimming rearview and side mirrors, a 5.0-inch colour TFT instrument cluster display, 8.0-inch InControl touchscreen infotainment, a backup camera, 380-watt 11-speaker Meridian audio, dual-zone auto HVAC, emergency telematics, a panoramic sunroof, a powered tailgate, versatile 40/20/40 split rear seatbacks that expand its class-leading cargo space from 648 to 1,798 litres, a reversible cargo floor, and all the expected active and passive safety features.
Safety in mind, Jaguar had added a Vision Assist pack to my tester, upping content to include LED headlights with LED "J" Blade daytime running lights, and blindspot monitoring with reverse traffic detection; a Comfort and Convenience pack featuring perforated Latte Taurus leather upholstery, climate controlled front seats, power reclining heatable rear seats, rear seat release levers, and a gesture controlled liftgate; while standalone features included a helpful head-up display, the wheels mentioned earlier, Ammonite Grey metallic paint, and a full-size spare.
Superb handling and a particularly nice ride
The spare tire meant I wasn't cruising on run-flats, a bonus for both handling and ride quality, the latter very nice for such a sporting SUV and the former superb. The F-Pace might be the best compact performance utility on the planet when suited up in aforementioned R-Sport or S trim. It feels mighty through the curves in 20d guise too, the SUV's aluminum double wishbone front and multi-link rear suspensions joining up with class-exclusive bonded and riveted aluminum-intensive construction to lighten and stiffen its body structure for a nimbler and safer SUV.
This helps straight-line performance as well, the engine pulling especially well from low revs, which makes for less shifting than a gasoline-powered four-cylinder equivalent would. Paddles are standard just the same, this brought about by a rotating dial gear selector that powers up out of the lower console. The transmission uses eight forward gears and combines smooth operation when driving at a more relaxed clip plus snappy response when pushing harder in Sport mode. Eco mode helps eke the most from its 60-litre fuel tank, a feature I used more with the 20d than when strapped into the 3.5t, while auto start/stop shuts the engine off when it would otherwise be idling, saving yet more fuel and reducing emissions further.
A richly elegant yet high-tech interior
It's such moments when I was able to take in the F-Pace interior, a particularly attractive mix of classic and contemporary design themes combined with rich materials and good build quality. The dash top and front facing, for instance, are finished in superbly crafted leather, piano black lacquered veneer, genuine metals, and high-resolution digital interfaces.
These latter items include the head-up display atop the dash, large TFT multi-information display set within the gauge package, and sizeable touchscreen over the centre stack mentioned before, and while the second and third are impressive the first is my favourite. The convenience of having priority information projected onto the windshield in full crisp colour day or night was appreciated, especially nav directions and posted speed limit reminders, while it also warns of potential collision via forward alert. Of course, there's also the safety benefit of not having to take your eyes off the road to read the multi-information display or infotainment screen, although these are both worth your attention when distraction isn't an issue.
The former is big, colourful and graphically attractive, one of the nicer base systems in the class, and the latter is also large with superb graphics, especially if you like classic British scenery, a lone red phone booth standing in a field used for Bluetooth connectivity, streaming lights of a multi-lane highway at night (the M1?) for navigation guidance with 2D or 3D mapping, more of an Icelandic or Greenlandic dusk theme (then again it could be the Okanagan) for climate control, and so forth. The base 8.0-inch touchscreen also includes a backup camera with dynamic guidelines, text-to-voice, audio streaming, Jaguar InControl Apps and more.
I should probably mention the 20d Prestige can be upgraded with more features, a Technology pack adding a fully digital and driver configurable 12.3-inch TFT instrument cluster, a larger InControl Pro 10.2-inch touchscreen infotainment with enhanced navigation, and more powerful Meridian audio with digital surround sound; and an Adaptive Dynamics pack with adaptive dampers and adaptive surface response; while standalone options not yet mentioned include a heatable windshield, Etched Aluminum or Gloss Figured Ebony hardwood inlays, an Activity Key waterproof wristband that lets you inside in place of the key fob, Wi-Fi, cargo area storage rails, and a tow hitch.
Superb standard feature set makes F-Pace a great value
That would be on top of the F-Pace 20d Prestige' $55,400 starting price, this model $4,500 more than the $50,900 base Premium and $5,500 less than the $60,900 R-Sport, the latter trim adding 20-inch alloys, a sportier body kit, a leather-clad interior and more. This pricing represents excellent value when factoring in the F-Pace impressive standard features, not to mention styling to die for.
It pays to go all the way when entering a new market segment, and Jaguar has clearly built a better sport utility. I recommend you put the new F-Pace on your shortlist.
Story credits: Trevor Hofmann, Canadian Auto Press
Photo credits: Karen Tuggay, Canadian Auto Press
Copyright: Canadian Auto Press Inc.