2018 Jaguar F-Type SVR Coupe Road Test
November 05 2018, Trevor Hofmann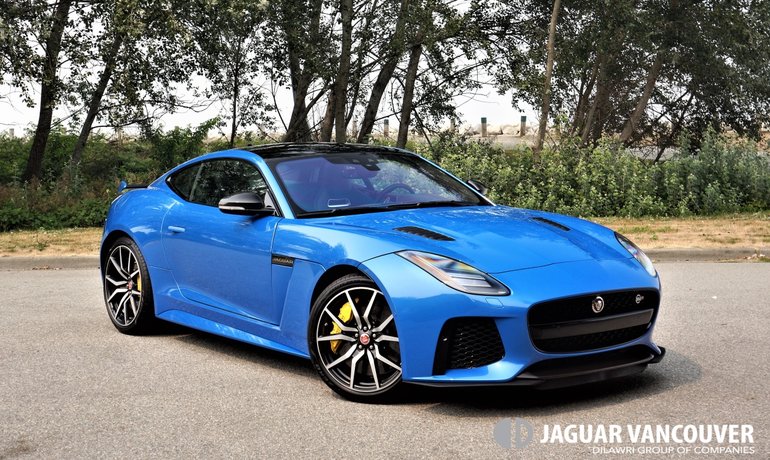 A performance icon and a great value proposition
Most of the "important" Jaguar F-Type news centered around two new trims for 2018, and despite the model year quickly coming to a close I was only able to test the fresh new turbocharged four-cylinder P300 base trim in 2019 guise, and never had opportunity to drive the special limited edition 400 Sport at all.
It won't be the first or last time I missed out on a great new car, but I probably would've cried if I'd been forced to skip my test week in this stunningly beautiful Velocity Blue painted F-Type SVR Coupe. First off, the colour is stunning and worth every one of its extra $4,590. My tester's version was in a gloss finish, but Jaguar will make it matte for $9,690.

That might sound like a lot for paint, but when you've already spent $139,500 plus freight and fees for a new 2018 F-Type SVR Coupe or $142,500 for the same model in Convertible form, despite this being $2,500 more affordable now than last year's equivalent SVR, not to mention an unfathomable $44,700 less than the Porsche 911 Turbo that still comes up short some 35 horsepower, what's another $10k?
Personalization options add performance and style
No doubt the same reasoning gets used when choosing to swap out the standard composite front chin moulding, louvred hood vents, mirror caps, side fender vents, and rear diffuser venturi blade with CFRP by adding the $5,100 SVR Carbon Fibre Exterior Package (the carbon fibre rear wing is standard), or for that matter upgrading the already impressive standard brakes to the optional SVR Carbon Ceramic Brake Pack for $13,260, which uses a gorgeous set of 10-spoke 20-inch diamond-turned alloys with satin black pockets to frame massive 398-mm front and 380-mm rear carbon ceramic rotors clamped down on by big yellow brake calipers.
Jaguar didn't stop there either. I would've been quite happy with the stock interior that's already more opulently attired than most premium-branded sports cars available in this class, yet they added a $2,810 Full Premium Leather Interior Pack with a gorgeous Reims blue double-stitched leather and Suedecloth-wrapped instrument panel and console, and the leather was of the highest quality and softest grade.
Such could be said of the blue-stitched hides used for the steering wheel, centre console, armrests, plus the intricately quilted door panels and seats too, while Jaguar also included some sporty carbon fibre inlays to complement all the beautifully detailed aluminum trim inside.
Plenty of notable upgrades improve 2018 F-Type
Some of these finishes are new for 2018, and come as part of a slight refresh that updated the steering wheel, air vent bezels, centre stack and door panels inside, not to mention exterior details like the front bumper, air intakes, lower fascia, plus standard LED headlamps and taillights. All the changes are positive, if only obvious to true F-Type aficionados.
Life with any F-Type is good, from the aforementioned P300 Coupe that starts at just $68,500 or $71,500 with the roof removed, to this supercar trouncing grand tourer. The SVR delivers a lot of wow factor, but compared to something that might be able to keep up, like the AMG-Mercedes GT or Lamborghini Huracán, it's more visually subdued. This is made more evident in a subtler colour like Santorini Black, where if it weren't for the quad of crackling exhaust pipes out back it might even be able to sneak past the authorities unnoticed.
The auditory ensemble is gearhead nirvana, even without pressing the amplification button on the centre console that pumps up the volume when getting hard on the throttle by opening bypass valves within the exhaust so spent gases can exit more freely. The lightweight two-mode titanium and Inconel (an austenitic nickel-chromium-based super-alloy) active exhaust system is exclusive to the SVR, and above 4,000 rpm it snaps, crackles and pops to the delight of driver, passenger and enthusiastic passersby.
Shockingly capable performance that's easy to use
Maybe it's the sound, but the F-Type SVR feels even quicker at takeoff than Jaguar's claimed three and a half-plus seconds. The big fat 305/30ZR20s do their duty, with wheel spin easily kept in check thanks to standard all-wheel drive. It's rear-wheel biased if you prefer to get unruly, but you won't be able to modulate the eight-speed ZF automatic's clutch yourself, so you'll be forced to nix traction control and work the steering wheel and throttle to will its tail end sideways. I prefer the steady and smooth approach that allows the SVR to hold its ground with uncanny resilience, Jaguar claiming more than a G of lateral grip on the skidpad. This lets you get hard on the go-pedal mid-corner and experience all of its 575 horses immediately, without hair-raising consequences.
With a body made from riveted and bonded aluminum and equally lightweight and rigid chassis construction the F-Type SVR feels wonderfully responsive with quick, reactive steering that provides good feedback, plus it's plenty agile when flung hard through fast-paced S-curves, almost rambunctiously nimble. It looks long and lean and therefore more like a highway cruiser, but its short 2,622-mm wheelbase means that turn-in is immediate, while high-speed stability still feels grounded and composed.
The F-Type SVR is an easy car to drive too. Of course, any sports car approaching 600 horsepower requires respect, but the SVR doesn't need subservient reverence when coaxing the most from its formidable performance in a quest for limitations. I certainly wasn't able to find a point of no return even with its configurable Dynamic sport mode engaged, but then again I wasn't forcing it beyond rationality and only defeated its electronic driving aids for testing.
Jaguar includes an adaptive suspension benefiting further from an electronic active differential with brake-induced torque vectoring, so when driven within the realms of reason the SVR was downright docile, responding to the subtlest of inputs with predictable precision. Likewise, driving around town wasn't the type of chore such mundanities are in a low-slung exotic. In fact, the SVR needs no more concentration than any other F-Type, but glides through traffic easily while riding comfortably.
A cabin befitting an exotic supercar
The slimline sport seats are wonderfully cosseting too, while their door-mounted 12-way multi-adjustable controls featured memory settings that, when combined with side mirror presets and the ideal positioning of the powered steering column, provided an ease of daily use that was much appreciated.
Other items worthy of note include the well-organized and feature-filled 10-inch InControl Touch Pro infotainment touchscreen, which even includes a GoPro ReRun app that videotapes your drive before overlaying it with performance data. This would be brilliant at the Nürburgring Nordschleife, let alone Mission Raceway. Of course, a backup camera with dynamic guidelines, navigation and other functions are included within the touchscreen too, while climate controls can be adjusted from a separate interface just below.
Dual-zone automatic climate control is available as part of the Climate Package 2 upgrade that also includes heatable or cooled seats plus a heated windshield, fortunately included with my tester, while the standard HVAC system is automatic and pollen filtered yet single-zone.
Additional standard features not yet mentioned include auto-dimming interior and side mirrors, the latter power-folding and heated as well, plus proximity access with pushbutton ignition, an electromechanical parking brake, rain-sensing wipers, a heatable steering wheel, front and rear parking sensors, 10-speaker 380-watt Meridian audio, satellite and HD radio, configurable ambient lighting, plus much more.
Standard Intelligent Start/Stop meant that fuel economy was even kept in check, although at 15.6 L/100km city, 10.4 highway and 13.3 combined it was hardly as miserly as the P300 that achieves a claimed 10.2, 7.8 and 9.2 respectively in both Coupe and Convertible guise.
Plenty of worthwhile options allow a high level of personalization
Of note, autonomous emergency braking, blindspot monitoring, closing vehicle sensing, reverse traffic detection, lane keeping assist, adaptive cruise control, a driver condition monitor and traffic sign recognition all require a modestly priced $870 Drive Pack, worth it just for the upgraded cruise control.
Likewise, auto high beams are a worthwhile upgrade at just $260, while I'd probably choose the $3,680 carbon fibre roof over the $1,230 fixed panoramic glass roof my tester included, just because I prefer the lightweight performance benefits and general appearance of gorgeous composite weave more than seeing sunshine or stars overhead. My tester's powered liftgate was an extra $510 that I could do without too, as it's a small, lightweight hatch that requires little effort and less time to open if left to its standard manual devices, and I'm sure the standard setup saves weight as well.
I could babble on about standard features and options, but that would be boring and might deprive you the joy of Jaguar's online configuration tool, so suffice to say you won't feel shortchanged from the SVR's standard kit, and can easily upgrade you personal ride with the many aforementioned items, as well as 770 watts and 12 surround speakers of superb Meridian sound, semi-autonomous self parking, a garage door opener, and more, plus colour options galore.
A fabulous sports car for incredibly good value
I'd take my F-Type SVR in Velocity Blue with a few of the changes noted earlier, although I personally know of a gorgeous Ultra Blue version available from Jaguar Vancouver at the time of writing that would save its owner thousands.
I recommend the new F-Type SVR wholeheartedly no matter the colour, as it's both a performance icon and a great value proposition. It absolutely measures up in both respects and then some.

Story credits: Trevor Hofmann, Canadian Auto Press
Photo credits: Trevor Hofmann, Canadian Auto Press
Copyright: Canadian Auto Press Inc.