2019 Jaguar F-Type Coupe SVR Road Test
March 11 2019, Trevor Hofmann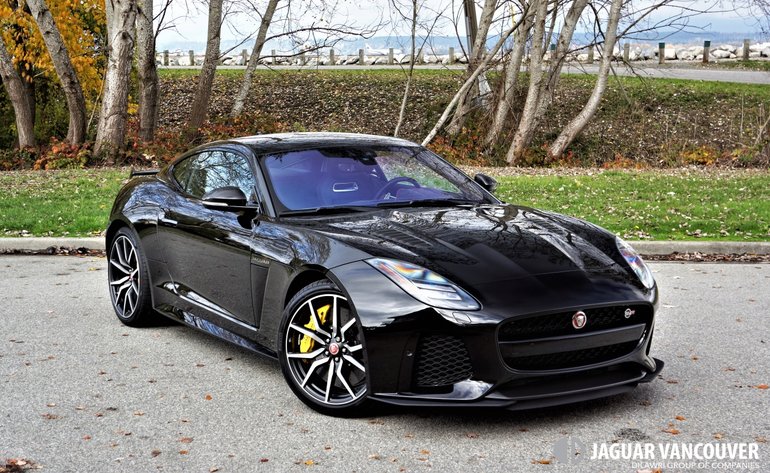 The epic sound of intense speed
Was I dreaming? No. Despite having spent a glorious week in a glorious Ultra Blue painted 2018 Jaguar F-Type SVR last year, the legendary British luxury brand gave me a second one to play with in 2019 trim and Santorini Black bodywork. Life doesn't get much better than this.

In case you missed my previous review, the F-Type SVR is something very special. Truly, any F-Type will impress, but the SVR can even cause the most jaded of automotive journalists to perk up and take notice.

It begins at the first hello. Like any F-Type its long elegant lines are obviously attractive, yet the SVR's muscled up details provide a more menacingly formidable presence. I've got to admit the mere sight of this car stops me dead in my tracks, with only the rasp of its snapping and popping exhaust breaking the trance.

Not just a spectator enjoying a quick glance while a lucky owner blasts past, this F-Type SVR was mine for the week and I wasn't about to waste a moment ogling its pretty aluminum skin. Tapping the retracted driver's door handle powers it outward for access, allowing a quick descent into the familiar performance seat body hug I enjoyed last summer. They're as fully enveloping as they're comfortable, and certainly supportive enough to make the most of all the power available. Right foot on the brake, pointer finger on the ignition switch, and OMG what a ferocious noise! The SVR sounds even better inside.

Blisteringly quick off the line yet amazingly agile when pushed
The brilliantly raw, wonderfully visceral note is one part 5.0-litre supercharged V8 and two parts two-mode titanium and Inconel active exhaust, the latter made more vital by pressing a little switch on the lower centre console. Flick the throttle over 4,000 rpm and a stimulating crescendo of crackling blatts exit rearward, a stimulating song that's only overwhelmed by the shock-and-awe of being pressed into the backside of the aforementioned seat as standstill to 100km/h rushes past in a scant 3.7 seconds.

Such is the result of 575 horsepower, a sizeable number that also produces a top speed of 322 km/h, or 200 mph for those still measuring such feats the old Imperial way. Respectful of our friendly RCMP's ability to strip me of a driver's license for the remainder of my days if I chose to use the public highway system to attempt such speeds, and being that the main straight on Vancouver's closest track, Mission Raceway, is hardly long enough to reach three quarters of that velocity, I'll just take Jaguar at its word. As for my professional opinion, the F-Type SVR is just plain crazy fast.

As you may have guessed when eyeing its shapely body the SVR is as capable through the curves as it is in a straight line, while its superbly quick-shifting eight-speed automatic is as perfectly suited to flicking up through the paddles as it is for rev-matched downshifts. While some luxury cars are best kept to the straight and narrow of multi-lane freeways, the F-Type SVR had me searching out distant backroads lined with consecutive corners.

Its 305-section Pirelli P-Zero rear rubber and near equally planted front 265/35s are fully supported by a lightweight aluminum chassis and riveted, bonded body shell, while the suspension's Adaptive Dynamics, electronic active rear differential, and brake-sourced torque vectoring enhance handling yet further. Feathering the carbon ceramic brakes ideally loads up the front tires before entering an apex, followed by a progressive push on the rightmost pedal, at which point you can just sit back and enjoy while the SVR's rear rubber locks into asphalt, catapulting this ultra-luxe super-coupe on to the next corner, a process I repeated over and over as many times as opportunity allowed.

Totally comfortable and surprisingly practical too
Common logic might cause one to think that something as quick as a supercar would be a challenge to drive around the city, but that's where its exotic tendencies end and more upright pragmatism enters the picture. In fact, the F-Type Coupe SVR is just as comfortable around town as it is for long trips, while visibility is excellent for having such a narrow greenhouse and thick rear roof pillars. I found the 12-way adjustable driver's seat and powered steering column ideal for my long-legged, short torso five-foot-eight frame, and thanks to a lot more movement in most every direction it should be good enough for the majority of sizes and shapes. Practicality in mind, the F-Type Coupe's 408-litre luggage compartment is a perfect fit for golf bags and other big items, and it's impeccably finished like the rest of the car.

The SVR's cabin is even nicer than most F-Type trims, my tester detailed out with vibrant red stitching and piping over Ebony black quilted leather and suedecloth for an absolutely sumptuous experience, while its electronic interfaces are a considerable improvement over previous generations and easily comparable to competitive systems. While classic analogue gauges continue to surround a large 5.0-inch colour TFT multi-information display ahead of the driver, an attractively laid out and totally functional setup, the Touch Pro infotainment touchscreen on the centre stack is completely new for 2019, increased from 8.0 inches to 10.0 and now mounted flush to the instrument panel without any old-school buttons to the sides. It's well equipped with an accurate navigation system, a clear reverse camera featuring active guidelines, Pro Services, InControl Apps, a fabulous sounding 770-watt 12- speaker Meridian surround audio system, satellite and HD radio, and more, while my tester also came upfitted with $300 worth of Apple CarPlay and Android Auto smartphone integration.

The F-Type SVR drives excellent value
Pricing in mind, the 2019 F-Type Coupe SVR starts at just $140,500, while the same car in Convertible form only requires $3,000 more, both of which are bargains when compared to the Porsche 911 Turbo that'll set you back a staggering $43,700 more for its coupe or an additional $54,700 for the cabriolet.

That kind of money would easily pay for my tester's $13,260 Carbon Ceramic Brake Pack before leaving loads left over, which adds 398 mm rotors up front and 380 mm discs at back, plus bright yellow calipers encircled by a beautiful set of 10-spoke 20-inch diamond-turned alloy wheels.

On that note my test car was hardly short on options, while standard SVR features include LED headlights, a heated steering wheel, rain-sensing wipers, auto-dimming centre and side mirrors, automatic climate control, front and rear parking sonar, autonomous emergency braking, and lane keeping assist. It's nice to know Jaguar still delivers strong value, even when its F-Type enters supercar territory.

While I could easily keep gushing on and on about this thoroughly impressive sports car, instead I'll recommend that you head directly to Jaguar Vancouver where a near identical Santorini Black F-Type Coupe SVR sits in their showroom as I write these words, not to mention an even more dazzling Caldera Red F-Type Convertible SVR that will make the snap, crackle and pop of the exhaust even easier to hear, while it just so happens their "Impeccable Timing Sales Event" could make these two beauties more enticing than ever.
Honestly, I've had two of the most enjoyable weeks in recent memory with the F-Type SVR, so I can only imagine that living with one on a permanent basis would be epic.
Story credits: Trevor Hofmann
Photo credits: Karen Tuggay